This page will show current awardees and previous boxers of the year.
2023 Awardees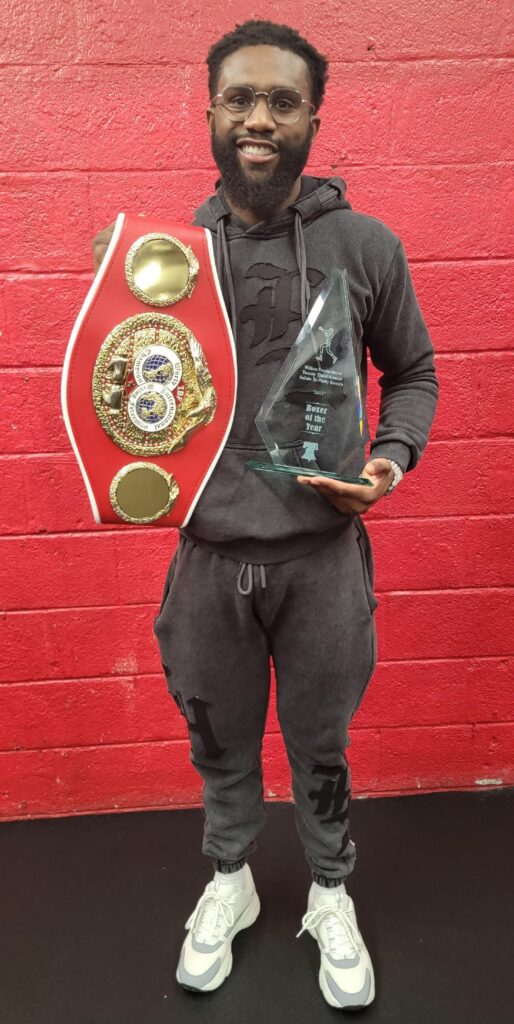 2023 BOXER OF THE YEAR – Jeron "Boot" Enis
New annual award – The "Smokin' Joe Frazier Memorial Spririt Award was presented to – Lando rosa 
(the 1st one was in 2012)
Judge – Steve Weisfeld
Referee – Shawn Clark
Matchmaker – Nick Tiberi
Trainer – Marcus Rosa
Manager – Lando Rosa
Upcoming Boxer – Atif Oberlton
Blast from the Past – Tim Witherspoon
Boxing Writer – George Hanson 2012 to 2023
Cut-man (Joey Eye Award) – Danny Davis
Promoter – Marshall Kaffman
Fan of the year – No one
Most tolerant spouse – Mrs. Dawn Rosa
Boxing facility – Pivot Boxing Academy
Special Awards by: Dave Wilkes
2019 – 1) Championship belt for 50 years promoting boxing for J Russell Peltz of Peltz Boxing Promotions
2) Hidden Hero – Rasheed "Sugar Sheed" Johnson
3) Boxers against cancer – Renee Reynalds& Ms Stephanie Cain (Zinman Furs)
4) Supporter – Dr. Roxanne Contee & Nino DelBuono
2018 – 1) Boxers Against Cancer – presented by: Paul "Earthquake" Moore
2) Hidden Hero award – Simon "One Punch" Carr & Paul Moore
3) Supporter award – Velma "Baby TNT" Garrett
Special Presentation by Earl Weeks: Veteran Boxer award to a boxer from the military
2014 – Fred Jenkins Jr. (outstanding boxer) & Sharron Baker (outstanding achievements)
2013 – Boxing champions – past & present
2012 – Smokin' Joe Frazier Memorial Spirit Award
2011 – 1)Inspirational award to Dewey Bozella
2) Retirement award from sports writing to Elmer Smith
3) Ringside Doctor – Dr. Steinberg
2010 – A dedication award to the memory of Pete Shafik Lyde, Jr.
2009 – A retirement from being a referee award for the also great and legendary
Mr Rudy Battle. Now state athletic commissioner.
2008 – A retirement from being a referee award for the great and legendary
Mr. Frank Cappucino.
2007 banquet was dedicated to WOMEN in boxing in the Philadelphia surrounding area.
Awardees – Elizabeth Cunningham, Venoca Micheals, Rose Vargus, Lucille Fletcher, Dave Wilkes (promoter), Sharron Baker, Lynne Carter, Velma Garret
Boxers Of The Year
1997 Charles "The Hatchet" Brewer
1998 Ivan "Mighty" Robinson
1999 David "The American Dream" Reid
2000 Bernard "The Executioner" Hopkins
2001 Bernard "The Executioner" Hopkins
2002 Bernard "The Executioner" Hopkins
2003 Bernard "The Executioner" Hopkins
2004 Bernard "The Executioner" Hopkins
2005 Zahir Raheem
2006 Demetrous Hopkins
2007 Eddie Chambers
2008 Bernard "The Executioner" Hopkins
2009 Bernard "The Executioner" Hopkins
2010 Danny "Swift" Garcia
2011 Hammerin' Hank Lundy
2012 Danny "Swift" Garcia
2013 Danny "Swift" Garcia
2014 Steve "USS" Cunningham
2015 Amir "Hardcore" Mansour
2016 Jason Sosa
2018 Tevin Farmer
2019 Julian Williams
2023 Jeron "Boots" Enis